Home
The Nature Coast - A Water Lovers Paradise
The Gem of Florida, for Manatees, Fishing, Boating, Kayaking, Birding and so much more!
It felt good to return to our old stomping ground in Crystal River in Citrus County on the Gulf of Mexico. We used to volunteer at Ellie Schiller Homossassa State Wildlife Park for many years, and we live in Marion County, a 65 mile drive for us. Over the last few years, our visits have been less frequent, and we missed it greatly.
Plantation on Crystal River

Plantation on Crystal River

Plantation on Crystal River At KingsBay

Plantation on Crystal River Croquet & Canal

Plantation on Crystal River From the Water

Plantation on Crystal River Canal

FOWA Casting Contest

Plantation on Crystal River


Plantation on Crystal River
We got a chance to revisit the Crystal River area when the Florida Outdoor Writers 2014 conference was held at the Plantation on Crystal River, right at the headsprings on Kings Bay.
A self contained vacation destination, the Plantation on Crystal River has a golf course, spa, restaurant/bar, conference rooms, marina, boat docks, boat rentals, dive shop, and manatee tours in season. The staff went out of their way to see we had everything we needed. The Inn is also a "Green Hotel", conserving their water resources and being responsible stewards of the environment. Centrally located in Citrus County, it enables you to quickly access places like Weeki Wachi Springs State Park (and its Mermaids), Chassahowitzka National Wildlife Refuge, the Ellie Schiller Homosassa Springs State Wildlife Park (and its resident manatees, otters, wolves, bobcats, cougar, bears, birds, alligators and Lu, the Hippo), Rainbow River, Crystal River and the Gulf of Mexico and beaches. For more information, go to www.PlantationOnCrystalRiver.com
Over a hundred outdoor writers and photographers descended at the resort for a long weekend of seminars, fishing, scalloping, snorkeling, kayaking, biking, photography, watching the sunsets and eating great food. It was tough, but we managed.
Manatee At Homosassa Wildlife Park

Lu the Hippo At Homosassa

Bobcat At Homosassa

Black Bear At Homosassa

Flamingo At Homosassa

Bald Eagle At Homosassa

Barred Owl At Homosassa

Caracara At Homosassa

Swan at Homosassa

Rosie the Manatee - Homosassa

Ellie Schiller Homosassa State Wildlife Park Whenever anyone asks me if they can see manatees, (and they aren't able to swim or snorkel with them) and it is not the winter season, I can still say "Yes!" The Ellie Schiller Homosassa State Wildlife Park has resident manatees that can be seen all year around. Famous for its underwater Fishbowl Observatory, one can see manatees, and in the winter, over 30 species of fresh and saltwater fish. It is a wonderful opportunity for photographers to get close up images of native Florida animals and birds. A boat tour is also offered. The Park is only seven miles south of Crystal River on RT 19. Go to www.HomosassaSprings.org for more information. Boats, kayaks and canoes can be rented along the Homosassa River. The old town of Homosassa is a unique village along the river, with good places to eat. The Yulee Sugar Mills Ruins Historic State Park is also there to enjoy. Crystal River and Homosassa River are winter homes for the largest herd of manatees in the US. A few resident manatees stay all year around, affording you the opportunity to observe, snorkel or swim with them in their natural habitat. It is best to try and go during the week, to avoid the crowds and boats. Remember, you cannot touch, ride, or harass these gentle creatures, and heavy fines and penalties are levied to anyone that does so. There are many boat tours and boat rentals available in the area, and you can rent your mask, fins and snorkel if you don't have the equipment.
Chassahowitzka Boat Ramp

Chassahowitzka Camp Store

Chassahowitzka Canoeing

Chassahowitzka Headsprings

Chassahowitzka Headwaters

Chassahowitzka Headwaters

Chassahowitzka Spring

Chassahowitzka Canoeing

Swamp Lilies

Upper Chassahowitzka

Great Blue Heron

Chassahowitzka - Snapper Hole

Chassahowitzka - By Baird Creek

Chassahowitzka - Baird Creek

Chassahowitzka Canoers Baird Creek

Chassahowitzka Canoers Baird Creek

Chassahowitzka - Baird Creek

Chassahowitzka Kayaking

Chassahowitzka Kayaking

Chassahowitzka Blue Spring

Little Blue Heron

Chassahowitzka Eelgrass

Chassahowitzka Boat Ramp

Chassahowitzka - Lynbya Algae

Chassahowitzka Spring

Chassahowitzka River & Campground We had our own canoe, so we decided to drive down to the Chassahowitzka River, and put in at the Chassahowitzka River Campground boat ramp. There is a marina, canoe and kayak rentals, and camp store - it costs $5 to park your vehicle, or $7 if you have a trailer. The campground is a short distance from the river. This is one of Florida's best kept secrets, with many creeks and the main channel going almost 6 miles to the Gulf of Mexico, affording you many birding, wildlife, fishing, swimming, and canoeing opportunities. They give you a map so you can find the best places to go...For information call 352-382-2200.
Kayaker And Great Egret

Storm Over Ozello

Peck's Cove Couds

Village Golden Sunset - Ozello

Golden Sunset Couds

Sunset Clouds & Palm

Sunset Blue Clouds

Black Clouds Sunset

Blue Hour Cloud

Sunset Photographer - Ozello

Golden Sunset Clouds

Ozello, Peck's Cove and Sunset Photography Even though the Plantation on Crystal River gave us great food for our conference, we did have a few meals we could go out on our own. I can attest to the fact that this area has many varied and terrific eateries, though obviously, we could not try them all. Over the years, we have always enjoyed Crackers on the water north of Pete's Pier on RT 19, and we hear Charlie's Fish House next door is quite good. We know that Granny's, a place where the locals go, serves a great inexpensive early breakfast and lunch. We also love Stumpknockers for typical Florida food. One location is in Inverness, and also one on the Withlacootchee River on RT 200 heading toward Ocala (we like the ambiance there on the river).
We wanted to try a new place, and we were told about Pecks Cove Seafood Restaurant 9 miles down on the Ozello Trail. So, off we went, and we were not disappointed. We left early to eat there first because I had wanted to go out over the salt marshes and coves to photograph the sunset and try long exposures.
We drove the Ozello Trail heading west off RT 19, 10 miles winding down this road, the road comes to an end at a boat ramp, almost at the Gulf of Mexico. We were blessed with dramatic clouds, little Blue Herons and Great Egrets, but we were basically facing ENE, so we quickly backtracked to Peck's Cove a mile back, and were rewarded with even more dramatic clouds, rain showers, and a fabulous sunset. One of our sponsors, Hobie Cat, makers of kayaks, sail kayaks and pedal kayaks, had demo boats to try. We had the opportunity to try a Tandem Mirage pedal kayak. It is fantastic! It will be on the market soon.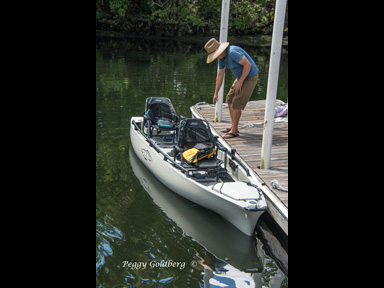 It is a 17' 2 person boat- like a kayak, but heavier- you can stand in it, fish from it, have your dogs on it - and we went against the wind, against the tide and current, and had no trouble even passing boats going idle speed.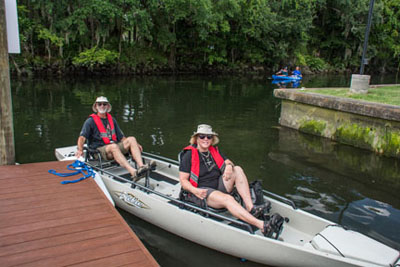 The seats are incredibly comfortable. Using your leg muscles make it very easy to motivate, (one person can be fishing, or doing photography, while the other puts the boat where you want). A lever that either person can operate activates the rudder, allowing you to turn the boat on a dime! In very shallow water, you must lift the "flippers" up and use a paddle like a standard kayak. Because it is a little heavy to lift on a car roof, a small trailer makes it easy to launch and pull out. Two people can lift and carry it if necessary. Go to www.HobieCat.com and check out their kayaks.
Going Into Kings Bay

Kings Bay Headspring

Port Paradise

3 Sisters Spring

3 Sisters Spring Sign

3 Sisters Spring Barrier

3 Sisters Spring

3 Sisters Spring

3 Sisters Spring

3 Sisters Spring

3 Sisters Spring Boil

3 Sisters Spring Kayakers

3 Sisters Spring Underwater

3 Sisters Spring Main Boil

3 Sisters Spring Blue Crab

3 Sisters Spring Snapping Turtle

3 Sisters Spring Snapping Turtle

3 Sisters Spring UW Kayaker

3 Sisters Spring Spring Boil & Trees

3 Sisters Spring Mullet

Manatee

3 Sisters Spring Snorkelers

3 Sisters Spring Snorkelers Viewing Manatee

Paddleboarders

Coming Into Crystal River

Kayaker In Crystal River

Trees & Moon

Manatee

3 Sisters Spring - Canoeing, Kayaking and Snorkelling We couldn't leave without taking our canoe and heading out from the Inn to go to the Three Sisters Spring, a favorite spring for manatees in the winter season. You can access the spring by kayak/canoe, or snorkeling only in the off season - Mar- Oct. We paddled up the bay, and turned into the canal for about a half mile to the entrance to the spring. A volunteer watcher in a kayak is there to insure everyone follows the rules, and answer questions. It is best to get there early in the morning, before the tour snorkel boats arrive. We put on our masks and fins, slipped into the cool, clear water over the springs boils. We sighted blue crabs, a huge snapping turtle, schools of mullet, and a few bass. No one was there until 9:30 a.m., when the tourists started arriving. We had been in the water over 45 min, so it was time for a leisurely paddle back.
While we were enjoying the paddling and photographic aspects in Crystal River, Homosassa and the Chassahowitzka Wildlife areas, other members of our group went fishing and scalloping in the Gulf, shooting skeet and traps, having casting contests, exploring the archeology sites, and biking on the Withlacootchee Trail to Inverness. There was just too much to do in just 5 days! Plus, several other State parks are within an hours drive to the centrally located Nature Coast. Do pick up the Citrus County Visitors Guide, and go to www.VisitCitrus.com for more contact information.

There is something for everyone on the Nature Coast...

___________________________________
[Home] [ Articles] [Classes] [Commercial] [Photo Tips] [Photo Gallery]
Please contact our Webmaster with questions or comments.
© Copyright 2000-2021 Golden Images, Inc. All rights reserved.