Home
Diving Fiji after Cyclone Winston
Back on the Nai'a!
It has been 6 years since our last trip to Fiji on the Nai'a, the liveaboard dive boat that plies the Bligh Waters and the waters southeast of Fiji's 2 main islands of Viti Levu and Vanua Levu. At that time, I wrote an article about the islands, the boat, and the customs and nothing has really changed since.
In order not to be redundant, you can read the previous article at http://www.goldenimages-photo- scuba.com/article_Fiji.html

Cyclone Winston

On February 20,2016, Cyclone Winston, the strongest tropical cyclone in recorded history to make landfall in Fiji and the South Pacific Basin hit with winds of over 180mph devastating the landscape. Cyclone Winston, a category 5 storm, impacted many villages, causing over 44 deaths. A four meter high storm surge compounded the problems. Cyclone Winston affected the lives of 40 percent of people who lived in Fiji. There were 40,000 homes damaged by this storm. The islands to the north took the brunt of the storm's fury, but we knew that storms of this magnitude would also destroy many shallow reefs.
You can see before and after photos of the damage at http://www.abc.net.au/news/2016-03-07/fiji-before-after-photos-cyclone-winston/7220784
Cyclone_Winston_Map

Destroyed_Reef

Recovering_Reeftop

Destruction_From_Winston

Fiji_Cliffs

Fiji_Highlands

Beach Near Nadi

Highland_Road

Mt_Road

Hindu_Temple

Temple_Carvings

Cyclone_Winston_Map

We were unsure of what to expect on this trip. It had been only 3 months since the storm, but we knew the people depended on tourism.
With a new mirrorless camera system in tow, and long flights from Florida, we were aware of the challenges of the trip, but looked forward to our return to Fiji diving. Upon our arrival in Nadi, one would never guess that such a destructive storm had struck only a few months before. Nadi had avoided a direct hit, but suffered significant flooding.
Back on the Nai'a - Fiji Diving
When we boarded the Nai'a in Lautoka, we were ready to dive. As before, the Nai'a, 120' motor-sailor, was wonderful. They overhaul the boat annually, so it seems not to show its age. Most of the crew were there from our last trip in 2010, so they must treat their staff well. It was like coming home. The food was terrific and the diving was better than expected after the storm. We only had 11 divers onboard, and 5 of us were over 70!
Fiji diving can be challenging because of the currents. After all, without the currents, the vast array of colorful corals would not be there. Diving from the RIB (rigid inflatable boat) is not as easy as just jumping off the stern of the Nai'a. The tenders are spacious and comfortable, and the dive sites are never more than 5 minutes from the boat. You must be comfortable diving in currents, doing back rolls off the tenders, and hauling yourself back into the tender after removing your gear. There is a dive ladder that can be deployed for those that need it, but it seemed like a badge of honor not to use it. We'll do that when we are in our 80's. No matter where we came up, the tender drivers were right there to pick us up.
Naia

Tender

Final_Map

Bligh_Waters

Anthias

Anthias_On_Reef

Bluebell_Tunicates

Anemone_Mouth

Anemone_Mouth

Blue_Yellow_Fusiliers

Clouds_Of_Anthias

Clown_Triggerfish

Coral_Grouper

Crinoid_Standing

Desirable_Flabellina

Dwarf_Hawkfish

Fiji_Anemonefish

Fire_Dartfish

Flabellina

Gloomy_Tamja

Gorgonian_Pygmy_Seahorse

Large_Undescribed_Flatworm

Leaf_Scorpionfish

Lined_Nembrotha

Map_Puffer

Nudibrach

Peacock_Mantis

Peacock Tail Anemone Shrimp

Purple_Anthias

Purple_Scorpionfish

Reeftop_And_Fish

Rockmover_Wrasse

Saddled_Butterflyfish

Sapphire_Flatworm

Scorpionfish

Sea_Fan

Soft_Coral_Tree

Soft_Coral_Veins

Soft_Corals

Spiny_Sea_Star

Sponge_Arthropods

Spotfin_Lionfish

Swimming_Crinoid

Titan_Triggerfish

Tomato_Grouper

Turtle

White_Wall

White_Wall

Winged_Pipefish

Blue_Dragon

Naia

Because of Winston, a number of the reefs that the Nai'a frequented were heavily damaged, so they had spent the last couple of months exploring new sites. One of the areas that the storm actually passed over, the island of Taveuni, not normally a Nai'a dive site, was still in really good shape. So one consequence of the storm was that we got to dive areas that we had always wanted to dive, including the White Wall, a signature Fijian dive.
We found areas of heavy damage in our old haunts, yet, not far away, the reefs seemed untouched. There are still numerous sites to dive and explore. We were surprised to see that some of the reefs were already trying to recover, even though it had only been 12 weeks since Winston. Even the islands that were decimated were starting to turn green again. All that said, underwater, we were surrounded by schools of fish and the open polyps of the feeding corals and gorgonians were breathtaking. Large numbers of colorful nudibranchs littered the reefs. We even found pygmy seahorses! Reef Mantas would occasionally show up, doing rolls around you. Sharks were seen on just about any dive. Due to the currents, there was a lot of particulate in the water, making photography, especially auto focusing, a real challenge. Aside from reefscape images, I decided to try and photograph every species of fish, critter, and invertebrate I could find, whether or not I was familiar with it.
One of my favorite dives is off the island of Gau (pronounced 'Now'), the Nigali Pass. At slack tide, you jump in on the ocean side for an E ticket ride to the lagoon, with many sharks, Goliath Grouper, barracuda and sea snakes. Where the Pass splits, drop down to 65', fin to the left, drop onto the ledge and wait. Sharks will start to come around and check you out. If you are lucky, they will come quite close, swim by, swim over you from behind the ledge, and afford you some nice photo ops. When your computer starts telling you to leave, you go back over the ledge and drift into the lagoon, where fields of lettuce coral in the shallows, called the Cabbage Patch, afford even more cool photos.
The_Bleachers

Shark

Sicklefin_Lemon_Shark

Blacktip_Shark_And_Remora

Lettuce_Coral_Soldierfish

Bill_In_Shallow_Lagoon

Bluestriped_Snappers

Sea_Snake

Greeting

Village

Traditional_Fiji_House

Drumming_Messages

Village_Character_Mel

Village_House

Making_Kava

Mens_Meke

Women_And_Child

Children_Singing

Getting_Kava

Sunset

Crew_At_Kava_Ceremony

Crew_Of_Naia

Sunset

Sunset_Dark_Cloud

Blacktip Shark And Remora

Somosomo Village After diving that site a couple of times, we then donned our sulus (Fijian wrap around skirt worn by both men and women) and went to the village of Somosomo. We brought Kava and gifts for the village children. The villagers greeted us dressed in their Sunday best. They gave us a tour of the village. Not much has changed since our last visit except they now have solar power and they have cell phone service! Winston had bypassed them, and because of communications breakdowns, they had no idea how bad the damage in Fiji was until later. After the tour, we went into the meeting house for a Kava Ceremony and Meke (singing and dancing). The Kava Ceremony is very ritualized, with the giving and accepting of gifts, making the kava, and each of us drinking kava from the small bowls (called Low Tide). Clap once at acceptance, then clap three times after drinking. One could drink from the High Tide or Tsunami bowl. Yes, it does taste a little like mud, and if you drink enough, your lips and tongue start to tingle. That is all I experienced. The children performed their Meke, then the women, and then the men. Their acapella singing was beautiful. Afterward, we had a chance to sit around and talk one on one with the villagers, reinforcing for us that happiness and peace does not come with material things. One of the questions the elders asked was what we thought of the condition of the reefs. They are fishermen, not divers, and would love to see photos of the underwater world that they get their food from. They understood climate change was changing their future. Reluctantly, we had to leave to return to the boat, but the crew wasn't finished yet. They too, had a Kava ceremony accompanied by guitars and singing. We celebrated late into the evening, but diving awaited us early the following morning.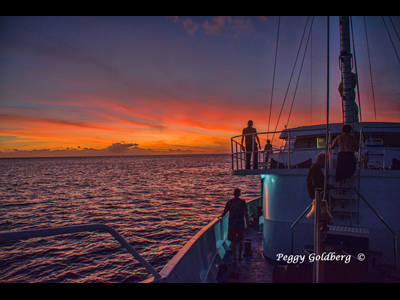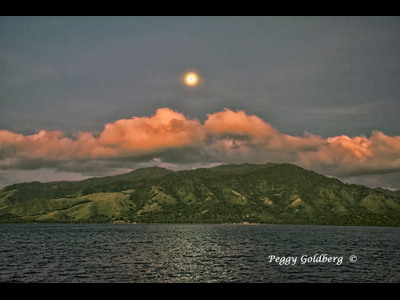 During our 10 days out at sea diving, we had a full moon some nights, and it afforded us some amazing photos of the islands and clouds. It also gave our night dives a nice eerie glow. It is difficult for those countries that are so dependent on the oceans to have climate change and the degradation of the world's reefs affect their food sources and their tourism. It is especially tragic when these now massive storms destroy so many lives. We were pleasantly surprised at the resiliency of the reefs and the people, and we had a wonderful trip on the Nai'a diving Fiji.
___________________________________
[Home] [ Articles] [Classes] [Commercial] [Photo Tips] [Photo Gallery]
Please contact our Webmaster with questions or comments.
© Copyright 2000-2021 Golden Images, Inc. All rights reserved.