Home
New Zealand
A Guided Trip from the North Island to the South and Stewart Islands

The North Island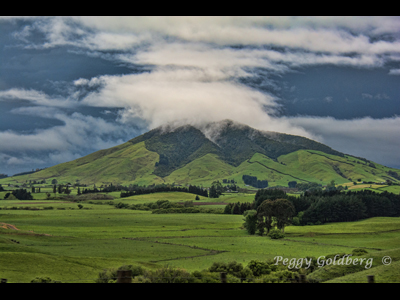 We have wanted to visit New Zealand for 40 years, ever since my parents traveled to this country almost 50 years ago and declared it to be the most beautiful country they'd ever visited.

An island country, New Zealand consists of three main islands - North Island, South Island, and Stewart Island. Located about a 3 hour flight ESE of Sydney Australia, New Zealand is not a tropical land, in fact Stewart Island sits at the 47th parallel and is known as the "Gateway to Antarctica". The islands are overflowing with mountains, valleys, glaciers, fjords, thermal vents, sheep, and only four million people. Auckland, New Zealand's largest city with 2 million residents (half the total population of New Zealand) and Wellington, the capitol, are both located on the North Island.

Because there are no snakes or other predators on these islands, most of the indigenous birds were flightless, and only two, the Kiwibird and the Weka, are left in the wild. Imported and invasive predators, like the Possum, originally imported for the fur trade, Stoat (in the ferret family), Red Deer, rabbits, rats, and others pose a serious threat to the native ecosystem.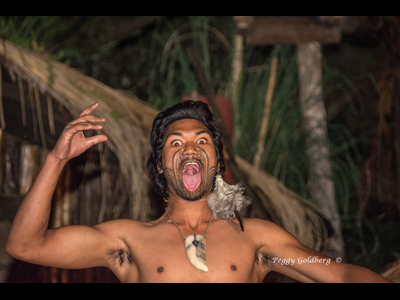 The Maori are New Zealand's indigenous people, having come from Polynesia and other islands in the South Pacific around 1000 years ago. They called this place "The Land of the Long White Cloud". The first European to set foot on the land was Abel Tasman in 1642. Capt. Cook came in 1769. We found The Road Trip, a private guiding and self-guiding company, by chance, and we were glad we did. It is always with concern when you send large sums of money to total strangers halfway around the world, but we have to say The Road Trip really was there all the way. They helped set up our guide, vehicle, accommodations and activities. We were lucky to get Matt Hill as our guide. He met us at the airport in Auckland at 6AM, and handled everything on the trip with professionalism, punctuality, flexibility, and most importantly, humor. Since they drive on the left side of the road, with right hand drive vehicles, it was a pleasure not to have to worry where we were going or how to get there. I am a photographer, and we had emailed Matt before the trip to explain that we were interested in seeing the natural and cultural side of the country, and not just the tourist attractions. Photographers can be a pain, endlessly stopping to take photos, and we were stopping every few meters, it seemed. We also like to be ready for sunrises and sunsets. Being active hikers, kayakers, boaters and divers, we were up for anything, weather permitting. We did arrange with Chris at The Road Trip to stay in B&B's and sheep farmstays, explaining that anything with 'luxury, gourmet, shopping or spa' was not what we wanted. The B&B's and farmstays are, in our opinion, the only way to see a country, meeting the families, talking to people, immersing ourselves in the country. The places and people were uniformly wonderful, and more than met our expectations. Wherever we stayed, the owners told us how much they liked Matt and the Road Trip. What can we say about the country except 'WOW!'. We covered the North Island, almost to the far North, and experienced all the culture, the beauty and power of the geo-thermal pools, Kauri trees, redwood forests, mountains, Glowworm caves, Bay of Islands, Maori culture, waterfalls, rivers, sheep farms, Lake Taupo (NZ's largest lake), and a couple of museums. Whew! That consumed the first two weeks, and yet we did not see everything! We still had the South Island and Stewart Island remaining! After landing in Auckland, touring the "City of Sails" and hiking up Mt Eden, we spent our first night in Auckland at the Braemar on Parliament B&B by the University, a Victorian style house that had beautiful Kauri woodwork. Our hosts John and Mel were wonderful. We happened to arrive the eve of the World Rugby Cup finals between Australia and New Zealand, played in London, so everyone was up at 5AM to watch the game live and party. After a 40 hour trip and no sleep, we still got up, dressed in black, for the NZ "All Blacks" team, and cheered them on to victory. Amazingly, we had no jet lag! Afterward, they served a wonderful breakfast, and we were on our way.
Auckland

002-Auckland

003-AucklandNeedle

004-Auckland

005-BraemarOnParliament B&B

006-AucklandBay

007-WhangareiFalls

008-WhangereiFalls

009-BayOfIslands

010-PaihiaBayOfIslands

011-ChaletRomantica

013-Russell

014-Islands

015-ViewBetweenIslands

016-Dolphin

017-Dolphin

018-SheepAndBay

019-IslandBay

001-Auckland

Driving north, the countryside reminded us a lot of Maryland and Virginia near the mountains. The ocean views were spectacular. En route, we visited the Kauri Museum to learn about New Zealand's most ancient trees. We then headed to Whangarei Falls (pronounced with an "F"), New Zealand's most photographed waterfall. We ended up in Paihia, The Bay of Islands. We normally would have taken time to spend a week diving, but we had come in November, their early spring, and the water was still quite cold. The best diving is out at Poor Knights Islands, but we felt three weeks of lugging all our dive gear and underwater photo equipment around the country would just be too much trouble for just a few days diving. We thought it best to see the country first and come back to dive another day. In Paihia, we stayed at the Chalet Romantica, a beautiful B&B on the hill overlooking the Bay of Islands. Run by a personable Swiss couple, Inge and Ed, Chalet Romantica provided spacious rooms with views, indoor hot tub and pool and exquisite breakfasts. They have a small herd of goats grazing in the pasture for the amusement of the guests. We spent the next few days touring the Bay of Islands by boat, observing dolphins, stopping at islands to picnic, hiking amongst sheep, and photographing incredible vistas. Nearby, we visited the Waitangi Treaty Grounds, where in 1840 the Maori and British signed the treaty creating the modern New Zealand. The original treaty can be seen on display along with a huge Maori war canoe (Wake), the kind used by the Maori to reach New Zealand. Next we headed to the Waipahu Forest, home to a Kauri forest and Tane Mahuta, the oldest, over 2000 years old, and biggest living Kauri Tree! Driving south, we visited Waitomo, New Zealand's largest cave network. The attraction there is the opportunity to see the Glow Worms, an insect larvae that glows in the dark to attract food. Drifting on a boat through the watery caves, in the total darkness and silence, viewing what appeared to be galaxies on the cave ceiling was quite an experience. Unfortunately, no flash photography was allowed. There is also another option to cave tube for several hours, but the 50F water convinced us to come back and do that in their summer months. New Zealand's roads are, for the most part, 2 lane, very well maintained and have little traffic. All the bridges are one lane and there never seems to be a problem with traffic. The signage is wonderful and clear. Because of all the twists and turns, average speed takes a hit and it will take you twice as long as you think it should to cover a specific distance. In addition, the scenery is so beautiful, you are stopping constantly. The "karma" of the country is very different. People are laid back, courteous, have a good sense of humor, and are egalitarian. You feel very safe out in the remote areas. You can rent an RV and camp anywhere, except where there are signs prohibiting it. Being so far removed from the rest of the world gives them a sense of peace and safety, a feeling we have not had in a long time. Throughout New Zealand, we were amazed to see not one piece of trash along the roads or trails (called tracks). It is engrained in even young children not to disrespect their home and land.
020-NorthOfKerikeri

021-WaitangiTreatyFlags

022-WaitangiTreaty

023-MaoriWarCanoe

024-MaoriMask

025-MaoriMeetingHouse

026-MaoriCarvedDoor

027-Doubtless Bay

028-LargeKauriTree

029-KauriPlank

030-TaneMahuta

031-MountainWithCloud

032-OpononiBay

033-GlowWormCaves

034-GlowWormCavesBoat

035-VivianAtRedwoodsBnB

036-Redwoods

037-Redwoods

038-Redwoods

039-MaoriCarvings

040-MaoriHangi

023-MaoriWarCanoe

We headed east to Rotorua, a center of Maori culture and geothermal activity. We stayed at The Redwoods B&B, located within walking distance of the Redwood Forest. It was thrilling to take a spiritual hike amongst the huge trees. Vivian, our host, has two beautiful spacious rooms attached to her house, and the use of a living/dining area. She serves a hearty and healthy breakfast. Redwoods B&B is close to all the attractions in Rotorua. We attended a Maori "Hangi" (banquet) and "Haki" (native dance) that night at the Mitai Maori Village. The food is cooked underground, allowing the geothermal heat to do the work. The next day, we walked around Te Puia with it's geysers and thermal pools. We also visited the Living Maori Village. This was an very interesting village with guided tours about Maori life and customs. This is a village where people actually live, it is not a tourist attraction as such. Centered around thermal pools, the steam and sulfur smell was prevalent, in fact it permeated all of Roturua. Heading south to Wai-O-Tapu Thermal Wonderland, we hiked areas of stunning beauty and significant geothermal activity. We continued south to Huka Falls, where jet boating is a popular pastime. Nearby, Lake Taupo is New Zealand's largest lake. As you hike around the lake you are treated to vistas of New Zealand's 3 most active volcanoes - Mt Doom, Tongariro, and Ruapehu.
041-MaoriWarrior

042-MaoriHaki

043-MaoriWarrior

044-MaoriCanoeists

045-TePuiaThermalGeyser

046-Geyser

047-Geyser

048-LivingMaoriVillage

049-LivingMaoriVillage

050-LivingMaoriVillage

051-MaoriCarving

052-Village

053-CommunalHotBaths

055-Wai-O-TapuGeyser

056-Geyser

057-Wai-O-Tapu ThermalPool

058-SteamingPool

059-BlackAndWhiteStilt

060-LakeTaupoMountains

061-HukaFalls

062-HukaFallsJetBoat

063-MtDoomVolcanic Mountain

057-Wai-O-Tapu ThermalPool

Our destination that night was in the area of Mangaweka for our first farm stay on an 800+ acre property known as Mt. Huia Hill Country Farm. The owners, Neal and Virginia, have a beautiful place with a typical farmhouse. There is another small house across the road for extra guests. They run about 1600 breeding Romney ewes, 450 replacement ewes, dozens of rams, 80 head of breeding cows plus calves, and wild red deer on a very hilly landscape, accessible only by ATV or on foot. Neal takes their guests on an extensive tour of the property, and also shows you how his sheepdogs, working as a team, move his rams down the road to another pasture. They serve a luscious dinner and breakfast and were wonderful company. Living on a farm ourselves, we really felt at home. It was time to head for Wellington, the capitol of New Zealand, located at the Southern tip of the North Island. We would stay one night at the Book Lovers B&B, visit the Te Papa/National Museum and catch the early ferry for a three hour trip across the Cook Strait to the South Island. Our adventure gets even better..
064-RoadToFarmstay

065-OneLaneBridge

066-Farmstay

068-NealAndBill

069-FarmTour

070-ViewToFarmhouse

071-Sheep

072-FarmTour

073-SheepAndRedDeer

074-RedDeer

075-Sheep

076-Sheep

077-FarmHillsAndTrees

078-GoldenTrees

079-GoldenTrees

080-SheepHerding

081-Wellington

082-Tui

083-LeavingNorthIsland

084-SouthTipNorthIsland

079-GoldenTrees

___________________________________
[Home] [ Articles] [Classes] [Commercial] [Photo Tips] [Photo Gallery]
Please contact our Webmaster with questions or comments.
© Copyright 2000-2021 Golden Images, Inc. All rights reserved.