DIVING WITH MANTAS, SHARKS, DOLPHINS AND WHALES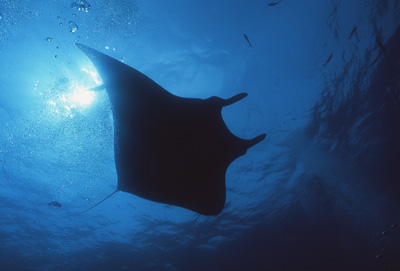 I recently had a chance to go to a place where we had the pleasure of diving with all of the above, often on the same dive! I am talking of a remote place, 250 miles SW of the tip of Baja – the Revillegegedos - more commonly known as the Socorro Islands. These are largely uninhabited islands - volcanic outcroppings in the Pacific. Only the largest island, Socorro, supports a Mexican Naval Base. It is what is underwater that attracts the few hardy divers to these islands - accessible only by liveaboard dive boat.
In Cabo San Lucas, we boarded the Solmar V – a 112' boat that takes the 22 divers and crew of 8 on the 26 - 30 hour crossing to the islands. With a following sea on the way out, the trip was an easy one- with humpback whales and their calves breaching, and, closer to the islands, dolphins racing our bow for miles. They were giving us a taste of what we would be seeing underwater.
We would dive three of the islands - San Benedicto, Roca Partida, and Socorro - each about 40-80 miles apart in a triangle. San Benedicto is a sparse forbidding, but beautiful landscape of volcanic rock and ash - it's last eruption was 1947. Only birds inhabit its steep cliffs.
Underwater, we would be diving steep vocanic walls with only hard corals and encrusting sponges and many schools of fish and tropicals typical of Pacific volcanic diving. Lobster, eels, and fish shared space with giant manta rays – some with wingspans of over 20 feet! The currents also brought in sharks - there are 7 species there, but we routinely saw Whitetip, Silvertip, Galapagos and Hammerhead sharks. Tigers, Duskys and Silkys are also often seen around these islands. Whale song permeated your senses during your dives. Dolphins came by in groups to play… as an occasional manta ray would cruise by.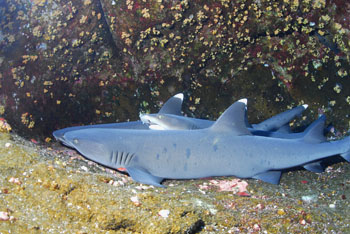 The visibility ranged from about 40-80' – depending on the currents and upwellings - and because of the currents, we dove from the zodiacs- known as "pangas". If we got swept away from the rocks or walls, we did our safety stops in blue water, where the schools of Hammerheads would cruise - and the pangas would pick us up upon surfacing.
70 miles away, Roca Partida was our next stop - known for the sharks that cruise around this volcanic outcropping that probably didn't cover an acre, but rose about 100' out of the water. Roca Partida is a nesting ground for the brown and red footed booby, the frigate bird, and other sea birds. While we were diving around the rock with its swift , ever-changing currents, observing sharks piled up in caves sleeping, sharks cruising the walls, and Hammerhead schools just within our visibility – we were again treated to the song of the whales. Topside, we watched as the the mothers and babies routinely would breach, tailslap and skyhop.
Socorro Island was the last island we visited- the largest of the three islands - about 5 miles by 3 miles and maximum elevation of 3100' – home of a Mexican naval base. After boarding our boat with their weapons ready, our passports were checked, and we proceeded to dive. Again, schools of dolphins, huge manta rays and sharks accompanied our dives. The whales seemed to put on even more of a show breaching – as they seemed to sense that soon they would be making the long journey with their calves north to Alaska.
After Socorro, we headed back to San Benedicto for a last hurrah with huge mantas, sharks, dolphins and whales before the long journey back to Cabo.
We came in early March to see the humpback whales and their calves. In April, after they are gone, the Whale Shark season begins! How do you choose?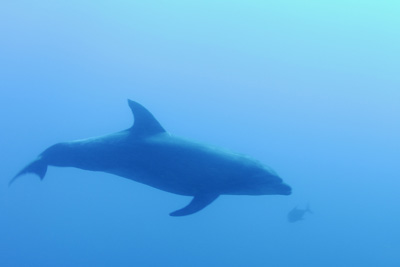 When we weren't diving - we made four dives per day, no night dives because of the currents and sharks - we were treated to fabulous food on board. When we weren't eating , diving or sleeping, we were downloading images and showing them, or we were on deck watching the spectacular shows put on by the whales and dolphins.
The boat is very comfortable, a diver and photographer friendly vessel with a good attentive crew. Even when we dove from the main boat, they had both pangas in the water for safety, in case the currents swept you away. The Solmar V now has Nitrox - and the diving is deep, so you must be very aware of your depths and times…you dive your own profile, even though they have 2 divemasters in the water. The trip seemed to end all too soon - even though it is longer at 9 days than most liveaboard trips. The Arch at Cabo signaled the end of a yet another adventure.
This year I had switched to digital underwater, putting my D200 in a Nexus housing, with Inon Z240 strobes. I used a 16mm fisheye for the bulk of the trip, and also used my 60mm lens. I would have liked to have had the 12-24mm lens, sometimes the animals were not as close as I would have liked, and the visibility is not pristine.
One huge difference that I have noticed from years past is that Everyone on board had some kind of digital camera- most had point and shoots in plastic housings - and they took some terrific images!!! Digital, and its immediate gratification has opened up underwater photography for everyone to enjoy. I was really impressed with the quality of the images from these little cameras.
For more information on the Solmar V - go to their website at www.solmarv.com. They will help you arrange everything from airport transfers to hotels to make your trip worry free. So, before it is too late, and global warming changes the currents and the temperature of the waters, causing these magnificent animals to change their habits, maybe you too, can dive with mantas, sharks, dolphins and whales all on the same dive!
Please feel free to respond to any of the articles, and if you have news you wish to share, please email me at pgoldberg@goldenimages-photo-scuba.com .