Myakka River State Park
Many times, after doing my eco and dive tours here in North Central Florida, clients are excited about doing the same kind of thing in other areas of the state they will be visiting.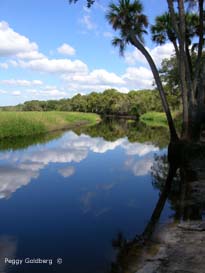 I am finding little (and big) treasures all over the state of Florida, and if you are ever on the west coast near Venice and Sarasota, the Myakka River State Park is a must. A short hop from Tampa, near Sarasota, just 9 miles east of I75 on Rt 72 (exit 205) is one of the largest and most diverse state parks in the Florida Park system, developed by the CCC in 1934. Many of the original historic buildings are in use today.
The Myakka River (a "Florida wild and scenic" river) flows through almost 60 square miles of wetlands, hammocks, and pinelands. There are 2 shallow lakes, which makes kayaking, canoeing, fishing, birding,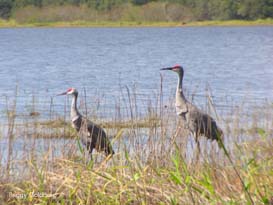 and wildlife observation popular activities. The nature trails, paved and dirt roads are great for hiking and biking.
When you first enter the park, there is a visitors center, and you will be handed a sheet of "25 Things To Do" at the Park…I only had a few hours to spend here – and that amount of time does not do justice to this place. There is so much to do!!!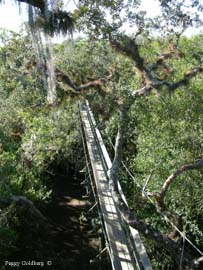 There is an incredible canopy walk – 75' up in the treetops – gives you a wonderful birds eye view of the river and surrounding areas. In addition, there are nature trails, horse trails, a bird walk (where we saw Sand hill Cranes close up), airboat rides on the Upper Myakka Lake, narrated Tram tours (Dec-May), canoe, kayak and bike rentals. There are 6 primitive campgrounds, and some log cabin rentals.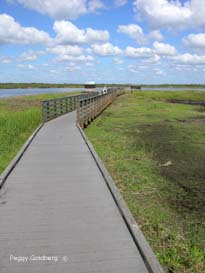 You can fish for crappie, bass and pan fish on the lakes, from the bridges and weirs. Boaters will find the boat ramp in the concession area.

Photography is awesome – the birds are incredible – I shot over 120 photos – I can only imagine what it would be like if I could be there at sunrise and sunset! I do eco-tours on gator filled rivers, and have never seen as many alligators as I have seen on the Myakka. I made a point of getting a canoe at the concession (easier for me to do photography than a kayak), and proceeded to canoe the Upper Myakka Lake shoreline. Alligators were popping up just feet from the boat, calmly watching me watch the many birds.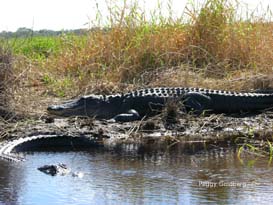 We then had to portage the canoe across the small concrete dam to access the Myakka River. I lost count of the alligators. I had thought earlier that day we could perhaps swim as we canoed, but I think Darwin's theory of Evolution would have been put to the test if I had. (Plus, there is "no swimming" at the park – DUH!)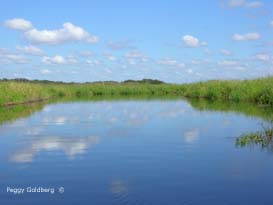 The Myakka is very different from other rivers I have been on…it is more open, no canopy for the most part – meandering, with marsh grasses on either side. The ranger told me that the further down the river you go, toward the Lower Myakka Lake, that the canopy is beautiful and provides more shade. If you are going to canoe or kayak this river, the best times will be very early in the morning in the summer, or the late fall, winter and the one day of spring we have here in Florida. Make sure you wear a hat, carry sunscreen, bug screen, and water.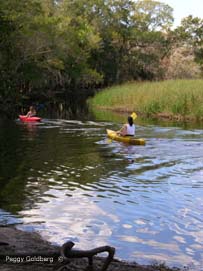 I was only able to go a couple of miles down the river, due to time constraints, but photographed storks, limpkins, great blue herons, little blue herons (in both color phases), great egrets, cattle egrets, anhinga, cormorants, kingfishers, red winged black birds, alligators, turtles and a flock of Roseate Spoonbills!! If I didn't bring my digital camera, I would have run out of film.

Anyway, I was sad to leave so quickly – I do plan on a more extensive canoe trip later, putting in on the lower part of the river. Check with the park, as they have a limit on the numbers of people in the Wilderness Preserve and the Lower Myakka Lake, and a permit is required.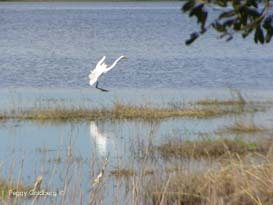 Pets are only allowed on leash, but are not permitted in the concession area, cabins, campgrounds or hiking trails. The Park is open from 8 a.m. until sundown all year long. There is a north entrance that is only open weekends and holidays 8 a.m. to 5 p.m.

For more information, contact the Park at 941-361-6511. The address is 13207 S.R.72, Sarasota, FL 34241. Their web pages are http://www.myakkaRiver.org and http://www.floridastateparks.org/MyakkaRiver.html

While you are in the Sarasota area, also visit the Mote Marine Laboratory and Aquarium, and next door is the Pelican Man Bird Sanctuary. For close encounters with other exotic birds, the Sarasota Jungle Gardens is a "must see".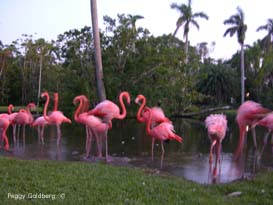 Venice has wonderful beaches, too – and Venice and Casperan Beaches will reveal shark's teeth in the surf line and also can be found while diving several hundred yards offshore. There is also a designated dog beach where our four legged family members can romp in the surf with their friends, just to the south of the fishing pier.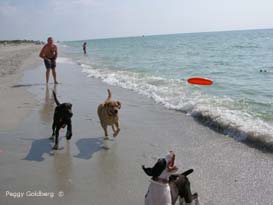 There really is so much to do in these areas, and they deserve more time and attention than I am giving now…but rest assured, you won't be bored, you won't have enough time, and you will be back. For more information on Sarasota County contact the Tourist Info Center at 941- 957-1877, the Chamber of Commerce at 941-955-8187.
Please feel free to respond to any of the articles, and if you have news you wish to share, please email me at pgoldberg@goldenimages-photo-scuba.com .