Steinhatchee
The Spirit of Old Florida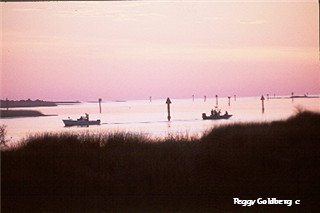 I have lived in Florida over twenty years, and yet I am still amazed by all the treasures I continue to find right around the corner. Twenty years ago, to attract tourists to Florida, we were assaulted by advertising for air conditioning, neon lights and animated mice. Instead today's tourists prefer to seek out these quiet little jewels, like the fishing village of Steinhatchee (in Taylor County) on the Gulf of Mexico. There, active tourists can kayak and canoe (instead of using golf carts), go birding in the marshlands, river, creeks, and woods, fish for the big ones in the Gulf of Mexico or in the Steinhatchee River, go biking, hiking or horseback riding on the back roads or in the 25,000 acre Steinhatchee Reserve, and during the summer season, from July 1 to September 10, snorkel for the delicious scallops in the Gulf.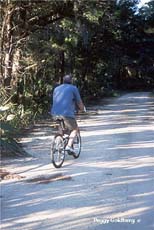 Twenty years ago, I drove out to this remote village to go scalloping for the day, and would have missed it if I had sneezed. What was nice on my visit this time, was not too much has changed. They did put in a new bridge across the river (from Jena to Steinhatchee), and there are a few more buildings, but it is still the same quiet fishing village, where the shrimp, fishing, and recreational boats provide a steady stream of traffic on the river. The sunsets are still amazing, and your tastes buds will delight in the fresh seafood caught right out the back door (well, almost).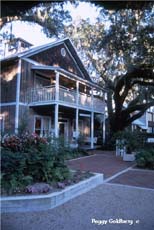 I was only able to visit this area for three days, and I didn't even scratch the surface of what this area has to offer. But, one of the "must-visits" is the Steinhatchee Landing Resort. This unique resort is dedicated to recapturing the spirit of old Florida, nestled on the banks of the Steinhatchee. This is a charming residential and resort community reminiscent of a 19th century fishing village. If you would like to escape to a quiet place, set in natural surroundings, and stay in one of 30 Victorian, Cracker, or Southern architecturally designed cottages, this is truly a unique experience. When you enter the 35-acre property, you realize this is unlike any other place you have ever seen, with its quaint cottages, narrow one-way roads meandering through the giant oaks, pines and palms.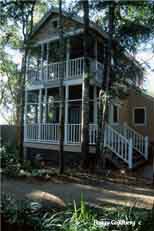 Most of the cottages are two story, with 1 - 3 bedrooms, they can accommodate between 4 and 10 people each- with Living rooms, kitchens, TV/VCR, washer/dryer, a screened porch, and some are handicapped accessible. President Carter and his family were guests in 1994 for a vacation retreat.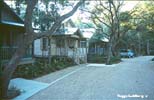 We were fortunate to stay in one of the Honeymoon cottages - one story, beautifully appointed cottages overlooking a meandering creek with lush foliage. These only accommodate 2 people . Our cottage had a king-sized four-poster bed, with a living area, large TV/VCR, sound system, small table for two in the bay window, a fireplace that opened to both the main room and the bathroom. The bath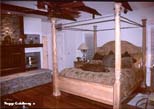 had a huge jacuzzi tub, with the fireplace, and a TV in the wall. A full kitchen with a hidden washer/dryer led out onto the screened porch. Outside, each cottage had its own grill. Candles and soft music set the mood - Let's just say the honeymoon cottages are well named.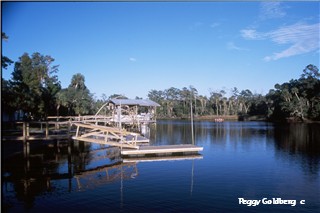 Other on-site amenities include a swimming pool, health club, tennis, badminton and basketball court, boat docks for your boat, and for a small fee - canoes/ kayaks, bikes, and a pontoon boat are available for river tours. I understand that there is a local ranch that is offering horseback riding. The Resort has an equestrian barn with a horse that they use for buggy rides. The Landings also has a small pond and petting zoo. They will take you up to Steinhatchee Falls to canoe/kayak back down river to the resort - about a 3-4 hour run. There is a small sandy boat ramp next to the property suitable only for small boats and canoes. For larger boats, you can put in across the river bridge at Jena. It is a short run to the Gulf - the resort is about 3 miles from the mouth of the Steinhatchee River, the boat ramp about a mile or so from the Gulf. The Resort will also arrange to have fishing guides pick you up right at the dock. My husband and I brought our 16' Carolina Skiff, and during low tide, thought it prudent to use the boat ramp across the bridge. We spent part of the late afternoon making a run to the Gulf. We motored out to the mouth of the river and missed photographing the sunset by sea - choosing to get back before dark and catching an even more dramatic sunset by land - with the docks and boats in silhouette.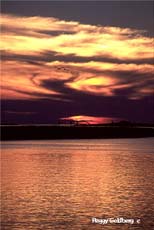 We spent the next morning motoring up river for several miles, where the river narrowed down considerably, and we ran out of time. We encountered a pod of dolphins as they leapt and played in the dark waters. It is a perfect area for canoeing and kayaking. We also passed several good canoeing creeks - all on the south side of the river. Most of the river is a slow-minimum wake/ no wake zone…as you go up river, the houses start to thin out and eventually, you'll be in a more pristine wilderness environment.
Some of the cottages of the Landings are on the river. Since all of the cottages are privately owned, each is decorated differently, but they all have the same amenities. What is really great, for those with family pets, quite a few are pet friendly! Alas, the honeymoon cottages are not.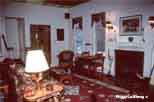 Check with the Landings if you want to bring a pet, so you can arrange for the proper cottage. Steinhatchee Landings also has a conference center, recreation pavilion and more. I know I am missing something….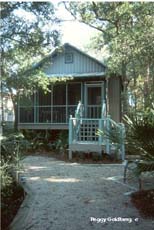 Oh, yes, the owner, Dean Fowler told me of his plans to build a wedding chapel with stained glass windows and vaulted ceilings. And if you are already wedded, it sounds like a great place to renew your vows. Check out their website at www.steinhatcheelanding.com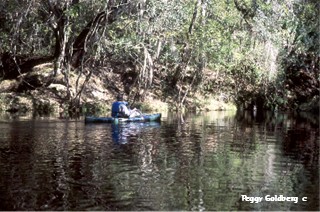 For those of you who want to explore the wilder aspects of the area, you should get in touch with the Steinhatchee Outpost.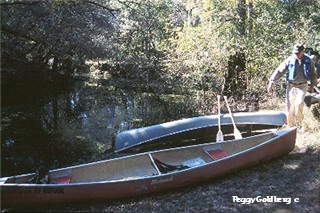 Bish Clark offers eco-tours by kayak or canoe. The Outpost also offers Salt and freshwater fishing, hiking and biking. He has campsites and cabins scattered over Beaver Creek, Copper Spring Creek, the Steinhatchee, Yates Creek and Keaton Beach. They also have developed a 15-acre lake that is 25 feet deep for swimming, snorkelling and scuba diving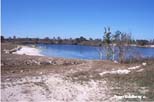 - perfect when the Gulf waters are too rough to dive or you want to do a check out dive. They have stocked the lake with fish, and will be installing a platform for divers to practice skills in the near future. We spent the morning with Bish and his yellow lab, Ridge, canoeing from Beaver Creek, to the Steinhatchee Falls (which he describes as- "the second tallest falls in Florida") which meant they were really a small rapids, but fun to go through.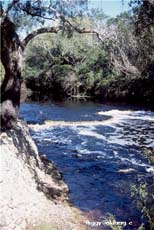 The Steinhatchee Falls Park is in the Steinhatchee Preserve - a 25,000-acre wilderness where only non-motorized modes of travel are allowed off the dirt roads, and deer, turkey, wild hog, and bald eagle abound. The current to the Falls was minimal, the tannin colored waters reflecting the trees and sky, with the only sounds being calls of the turkey, and Ridge (the lab) . He would leap into the water to follow the canoe and cool off before bounding to the shore to follow us.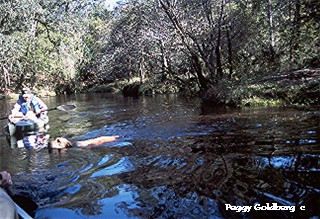 Again, we were only able to get a small glimpse of what The Outpost has to offer - too little time. Bish is a native Floridian who has realized the value of preserving the natural beauty of this part of Florida, and wants to show others this special part of his world. Check out their website at www.steinhatcheeoutpost.com
While we were there we got a chance to try several of the local restaurants… A popular place was Roy's -last place on the water - specializing in fried seafood. Fiddler's was also very popular, a little more upscale, and had excellent seafood.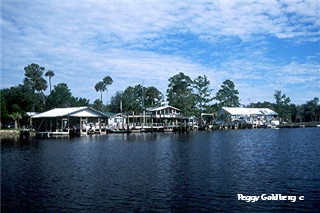 For breakfast, we tried the Bridge End Café - good home cooked food - a favorite local hangout - where everyone seemed to know one another.
Just short day trips away are a variety of Florida's State Parks - where the activities and photographic opportunities are endless.
Getting there is easy: From U.S. 19 (from Tampa to Tallahassee) 15 miles north of Cross City, and 25 miles south of Perry take State 51 west. Steinhatchee Outpost is on the southwest corner of the intersection, by the Gas & Grill Store. P.O. Box 48, Perry Fl, 32348. 1-800- 589-1541. Email: steinhatchee@perry.gulfnet.com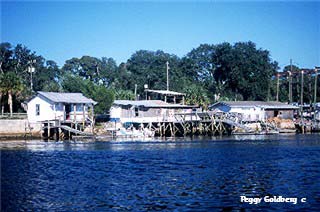 To get to the Steinhatchee Landing Resort, go about 10 miles further southwest on 51, into the 'city limits' and the Resort is on the left. P.O. Box 789 Steinhatchee Fl 32359 Email: slr@inetw.net Phone: 1-800-584-1709 or 352-498-3513.
The town of Steinhatchee and the restaurants are just down the road, a mile or so. Driving times are about 2 hours from Ocala, and 1-˝ hours from Gainesville.
So in these troubled times, if you would like to find peace, beauty, quiet, and endless photographic opportunities, come here to a place that will soothe the soul and where you will find the spirit and romance of old Florida.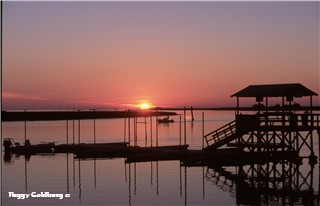 Please feel free to respond to any of the articles, and if you have news you wish to share, please email me at pgoldberg@goldenimages-photo-scuba.com